Shared Ownership Mortgage
2nd November 2023
By Alex Walker
What is a Shared Ownership mortgage?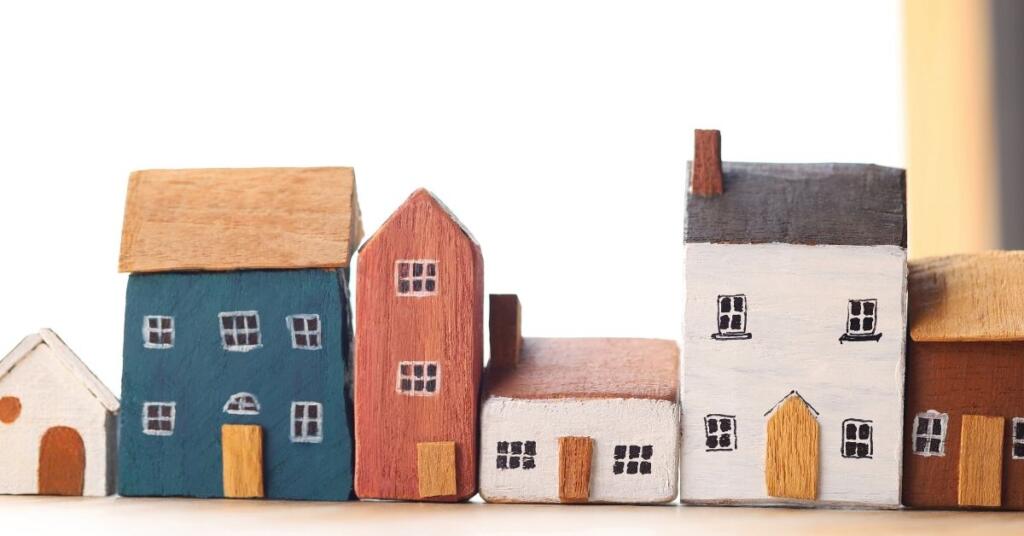 Read the post or clink the links below to scroll to the shared ownership mortgage information you need.
The Shared Ownership mortgage is a government scheme (SHO) and is intended to allow individuals to purchase a smaller share of their property. Usually, this is 25 percent, 50 percent or 75 percent, and therefore first-time buyers can get on the property ladder. The scheme means that first-time buyers only need a smaller deposit than would normally be required to buy their home outright. For example, the buyer has £10,000 as a deposit, this will represent 20% of a 50% stake in a £100,000 house.
Another advantage of shared ownership would be the monthly payments for the mortgage. They would be highly reduced. However, the buyer has to pay rent on the share of the house they don't own. This is typically paid to a housing association, and will increase the monthly cost. With that being said, you'll have the opportunity to raise your ownership share over time. You could be able to buy out the rest of the rented part of the property.
---
Specialists in Shared Ownership Mortgages
Most people aim to become homeowners. However, some have trouble getting on to the property ladder. This may because of lower incomes and therefore smaller deposits. If you are unable to raise a bigger deposit, shared ownership can help you get approved for a mortgage.
Shared ownership could provide a crucial first stage in buying a home. It allows individuals to move to a much bigger house than the size of their deposit would have normally allowed.
Some mortgage lenders, however, do not provide shared ownership mortgages. So you will spend quite a bit of time browsing around before you find one that looks at your application.
Find brokers which are mortgage experts in the field of shared ownership, and will know precisely which lenders to work with. As well as this, they need to be able to access specialist lenders if your circumstances require it. This is particularly helpful for people whose circumstances don't fit the high street lenders; for example self employed, contractors or people with a less than perfect credit history.
A broker will also assist you in thoroughly preparing your application. So lenders will recognize that you have accounted for the associated costs included and can meet their requirements for affordability.
We help our clients find the right lender and get onto the path of moving into their dream home with the right shared ownership mortgage.
There are many different types of shared ownership mortgages. Each is intended to assist a particular type of buyer, and to help them to begin the journey towards owning their first home.
---
Information on Shared Ownership Mortgages
Could I remortgage my Shared Ownership property?
Although this isn't the most common type of mortgage available, a shared ownership property can still be remortgaged. Its always worth the time and effort to obtain a better offer on your mortgage, although the remortgage process could take a long time. The main reason for getting a better offer is an improvement in your equity share – effectively buying more of the property such as raising your share from 50% to 70%.
This means that your mortgage payments will normally go up and your rent payments will come down. Yet the real advantage is that you will benefit from a greater share of any increases in your property value so in a rising property market its simply more profitable. For most people the aim is to eventually own 100% of the house and enjoy the benefits and freedom that brings.
The only problem is that only a small number of lenders provide shared ownership mortgages. So your options from which to choose are already limited relative to the wider mortgage market. You will also find that several lenders providing Shared Ownership mortgages may not want to deal directly with you. Many choose to manage applications through a trusted broker instead. This way, they can rely on the broker to properly package the application and confirm that the borrowers are an appropriate fit for their products and services, and vice versa.
Keeping within the rules and your means
Discuss the terms with the joint owners of the house to ensure that they allow remortgaging. This may include, the Housing Association, local authority, or other approved organisation. As well as this, laws may differ from one council to another, so ensure that there is nothing which restricts you in your contract.
Also ensure that the mortgage is the best for your circumstances in every new mortgage contract. There are a variety of influencing variables to take into account, and what may be a fantastic product for one borrower may not always be ideal for another.
Working with a knowledgeable broker can help you to find the most appropriate lender and product to suit your needs and. Throughout the application process they can offer support and advice to give you the best chance of success. So give our team a call today to begin the process and get you on the right track!
---
How different are Shared Ownership Mortgages?
Shared ownership mortgages have much of the same characteristics of a regular mortgage, but there are some considerable differences.
Deposit for shared Ownership
The required deposit level, which will not be a percentage of the whole property's value. Instead, it's only a deposit on the portion you will own. For example, if you take a 50% share of a property worth £200,000, your share will value £100,000. Then you would only need to make a deposit of £10,000 (assuming a normal 10 percent loan-to-value ratio). You would need twice the amount (£20,000) for the deposit to purchase the whole property outright.
Additional lender criteria
There are a variety of criteria that borrowers need to fulfill. Shared ownership mortgages are intended to support those who would be unlikely to get on the property ladder. These often impose a maximum income level and require applicants to be a first-time buyer, a former homeowner who isn't able to afford to buy, or a resident of an existing local council or housing association. As well as this, the scheme is also available for those diagnosed with either a long-term illness or disability.
Another prerequisite is that you'd have to live in the house. You will not be allowed to rent out any part of the house, even the portion you pay rent for. The exact requirements can vary from one local council to the next and also over time. So it would be best to review the current regulations where you may be located before continuing.
Staircasing and selling the property
You can always apply to purchase, from the housing association, a larger percentage of your house – this is called 'staircasing.' The cost of increasing your share depends on the property's current market value. In order to staircase, you have to pay the housing association for the house valuation and ensure that you have enough for the additional portion in either cash or a mortgage. Also its wise to ensure you always pay your rent on time as any new mortgage company will check this out and may decline your application if it appears you are having difficulty maintaining your payments.
The last main difference with shared ownership mortgages particularly applies when you have obtained 100% ownership, when you sell it. If you own part of the house, the Housing Association shall have the right to find the buyer itself, at least for a set period of time. If you own the property in its entirety, you can sell it yourself. However, the Housing Association typically has the first right of refusal if you want sell it within the first 21 years of buying the house.
---
Things to Consider
There are a variety of things to take into consideration before going forward with purchasing property with a shared ownership scheme:
Buying a house with a friend or relative is very different from buying a shared ownership property with a housebuilder, local authority or a housing association. There is a very clear separation of responsibilities and it is definitely a business relationship
If you want to increase the percentage of the property you own, the amount you pay for the additional share will be based on the current value. So, if the value of the property has risen after you purchased it, the price will be higher. But if the value has decreased, the share will then be cheaper.
So if prices are rising it makes sense to try to buy more of your share sooner rather than later. If house prices are dropping try and buy at the bottom before they start going up again. This isn't easy and some forward planning is needed to have the application in place ready to go. Then pick the optimum time to get the valuation and final stages done when market is right.
How get a mortgage for Shared Ownership
When starting out to buy a shared ownership property, you may need to contact the local Help to Buy agent to locate a shared ownership property suitable for you in the region you would like to live in. They will know what is available on the market or what is about to become available. Find your local help to buy agent here
Getting on the property ladder can be daunting, even for people with reasonable salaries. If you're on a lower income, and maybe dealing with bad circumstances as well, it may seem impossible to become a homeowner, unless government support is provided. There are housing schemes like this to support those who need it most, get them started buying property, and then helping them to own an asset later in life.
If you meet the shared ownership mortgage requirements and are considering applying for a mortgage, then speak to an experienced mortgage broker. Promise Money advisors have a thorough knowledge of the whole market, the lenders which provide this style of mortgage, and the products that may be right for your circumstances. At Promise Money, our professional advisors will be happy to let you know what your opportunities there are, and will assist you through each step of the process.
For more information on shared ownership mortgages from the government click here.
Talk to a Promise Money adviser for more details
---
Pages which others have found useful…
Promise Money is a broker not a lender. Therefore we offer lenders representing the whole of market for mortgages, secured loans, bridging finance, commercial mortgages and development finance. These loans are secured on property and subject to the borrowers status.
More than 50% of borrowers receive offers better than our representative examples
The %APR rate you will be offered is dependent on your personal circumstances.
Mortgages and Remortgages
Representative example
Borrow £270,000 over 300 months at 7.1% APRC representative at a fixed rate of 4.79% for 60 months at £1,539.39 per month and thereafter 240 instalments of £2050.55 at 8.49% or the lender's current variable rate at the time. The total charge for credit is £317,807.66 which includes £2,500 advice / processing fees and £125 application fee. Total repayable £587,807.66
Secured / Second Charge Loans
Representative example
Borrow £62,000 over 180 months at 9.9% APRC representative at a fixed rate of 7.85% for 60 months at £622.09 per month and thereafter 120 instalments of £667.54 at 9.49% or the lender's current variable rate at the time. The total charge for credit is £55,730.20 which includes £2,660 advice / processing fees and £125 application fee. Total repayable £117,730.20
Unsecured Loans
Representative example
Annual Interest Rate (fixed) is 49.7% p.a. with a Representative 49.7% APR, based on borrowing £5,000 and repaying this over 36 monthly repayments. Monthly repayment is £243.57 with a total amount repayable of £8,768.52 which includes the total interest repayable of £3,768.52.
---
THINK CAREFULLY BEFORE SECURING OTHER DEBTS AGAINST YOUR HOME
REPAYING YOUR DEBTS OVER A LONGER PERIOD CAN REDUCE YOUR PAYMENTS BUT COULD INCREASE THE TOTAL INTEREST YOU PAY. YOUR HOME MAY BE REPOSSESSED IF YOU DO NOT KEEP UP REPAYMENTS ON A MORTGAGE OR ANY OTHER DEBT SECURED ON IT.
---
Promise Money is a trading style of Promise Solutions Ltd – Company number 04822774Promise Solutions, Fullard House, Neachells Lane, Wolverhampton, WV11 3QG
Authorised and regulated by the Financial Conduct Authority – Number 681423The Financial Conduct Authority does not regulate some forms of commercial / buy-to-let mortgages
Website www.promisemoney.co.uk