New Homes in Wolverhampton
Looking for new homes in Wolverhampton?
Development in Wolverhampton is progressing at a steady pace regardless of the current climate. Hundreds of new homes are being built or applied for. This level of construction leads to many new homes becoming available to purchase.
There are various kinds of new homes, such as buy-to-let, first-time-buyer, or shared ownership homes. All of these require different mortgages, and Promise Money can advise you which mortgage is right for you.
Below are just a small glimpse of current development and future planned projects across the City of Wolverhampton.
---
The Marches – WV Living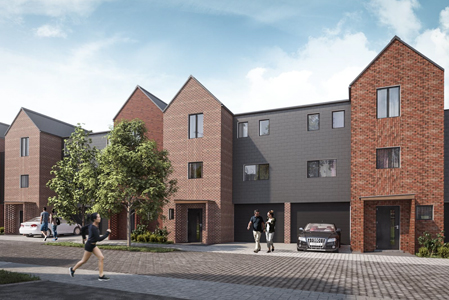 A new £34 million housing development is currently under construction on Lakefield Road and nearing completion. With phase 1 due for completion in early 2021, after initial Covid-19 related setbacks. Property juggernaut Willmott Dixon, is undertaking the development, providing new homes for Wolverhampton. They will also be working on other projects for the city, such as the Civic Halls refurbishment.
When phase 1 is finished, 43 new homes will be built. They will include a mixture of two, three and four bedroom houses available for purchase. But when the entire project is completed, it will provide 266 new houses of varying sizes and costs. 51 of these houses will be council houses, 17 shared ownership and 198 new houses. Out of the total built, 67 of these being deemed "affordable" housing. A screen of trees will also be planted to keep the privacy of existing houses that surround the development. This will provide extra privacy for the new builds that haven't yet been completed. This development is just one stage of a massive project, with WV Living aiming to build 1,000 new homes over the next 4 years in and around the Wolverhampton area.
These houses have special significance, and are being built as a memorial for the crew of a Lancaster Bomber. This bomber went down on Lichfield Road nearby, during the Second World War. Each street in the complex being built will be named after one of the airmen who went down the bomber in 1945, therefore immortalising these men forever.
Prices start for the 2 bedroom Attwood houses at £174,995. While the bigger 4 bedroom Langley houses start at £269,995.
For more infomation about the developments visit WV Living.
---
Goodyear Clock Tower – Persimmon Homes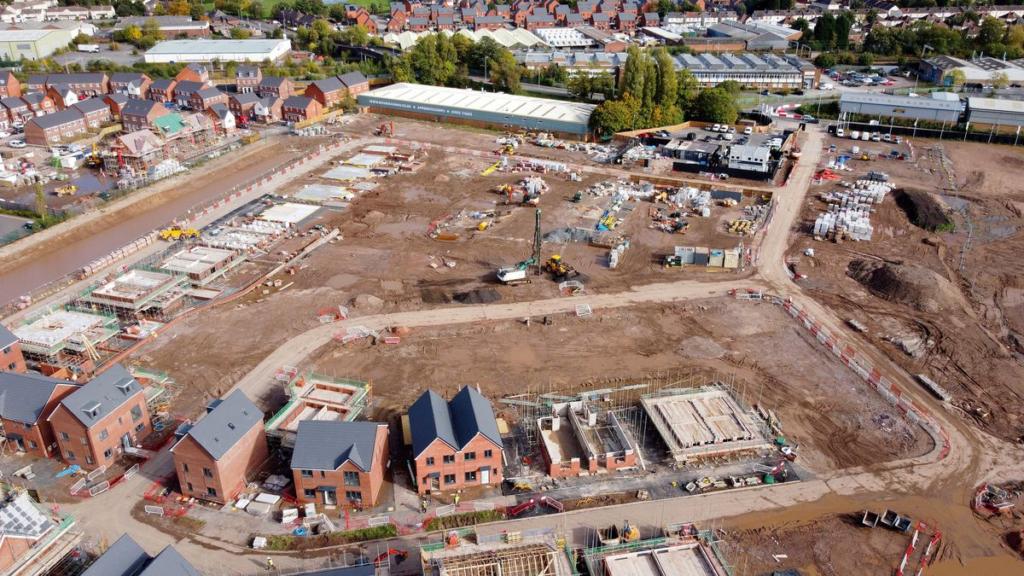 The old Goodyear property is the site of fresh investment, with 118 new properties to be built there. This is in addition to other infrastructure built there, including an Aldi supermarket, a pub and hundreds of other homes. The 118 homes are less that the originally proposed 126. This is due to removing an apartment block and replacing it with 11 new homes.
The development will have a selection of two, three and four bedroom homes, however a large proportion of the homes are already sold or reserved.
A major selling point is the excellent location, surrounded by lots of what Wolverhampton has to offer. Within short travel distances are multiple parks, transport services as well as local shops and restaurants.
For more information visit Persimmon Homes.
---
Bilston Urban Village
A massive development is underway to transform Bilston with the addition of 420 new properties. Countryside properties is working in conjunction with Accord Housing Association as well as City of Wolverhampton Council. On a 27 acre plot, various sized houses are being constructed, offering two, three and four bedroom homes. 192 of these homes will be available to buy through the Help to Buy scheme.
As a major part of the ongoing regeneration project in the Wolverhampton area, the Bilston Urban Village has close access to multiple transport links, as well as significant investment to on-site amenities. These include a primary school, leisure centre and a new pub.
105 of the properties will be provided by Accord Housing Association. Of these houses, 85 will be available for Affordable Rent, while 20 will be Shared Ownership
For more infomation visit Countryside Properties.
Talk to a Promise Money adviser for more details about mortgages
---
New Homes information others have found useful…